Back to school drive this week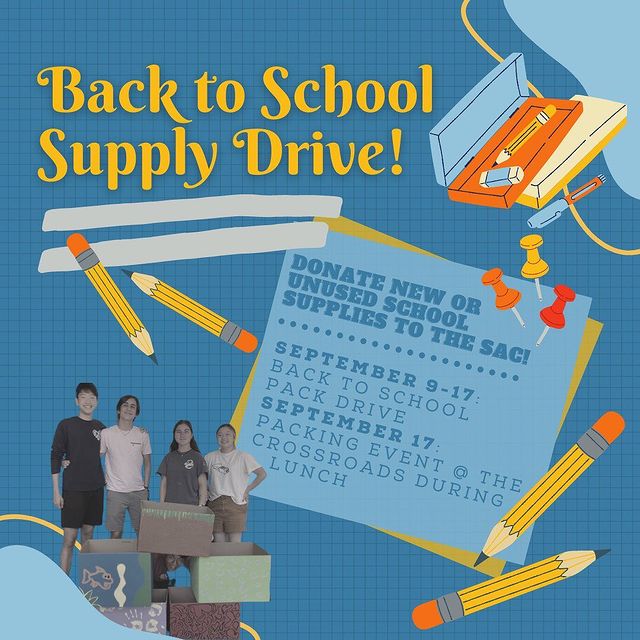 Back to School Drive is happening this week from Monday through lunch of Friday September 13th! All donations go to underprivileged charity center KidWorks so make sure to donate!
Supplies needed:
pencils
erasers
crayons
colored pencils
notebooks
Seniors Six Flags Permission Slip
https://forms.gle/Tp6GnokjdwPnkEK6A
Please fill out the google form above and pay at the SAC for Six Flags on October 13th! The price is $80.
2021-2022 asb & COUNCIL
2021-2022 ASB
President: Jean Meyer
Vice President: Mila Nenadic
Clubs Commissioner: Quinlan Tobin
Boys' Sports Commissioner: Joshua Zhou
Girls' Sports Commissioner: Yade Cinar
Spirit and Rally Commissioner: Kody Alarcon
Student Activities Coordinator: Wyatt Mackellar
Senior Class President: Sara Ghaem-Maghami
Senior Class Vice Presidents: Karim Galal & Hunter Jue
Junior Class President: Ryan Alavi
Junior Class Vice Presidents: Shannon Hegarty & Kassidy Leem
Sophomore Class President: Anna Gubin
Sophomore Class Vice Presidents: Riley Hertstein & Jesse Niedwick
Freshmen Class President: Sarah Hong
Freshmen Class Vice President: Lillian Gan
Secretary: Gaby Choi
Treasurers: Max Li & Zoie Verghese 
Fine Arts Commissioners: Sol Choi & Kaylie Kubota
Publicity Coordinators: Millie Batra & Miriam Klaczynska
Technology Commissioner: Edward Jung
Staff and Parent Liaisons: Simona Forster & Nadia Jahanbin 
Student Wellness and Life Commissioners: Sam Maradani & Kayla Rezazadh 
Service Project Commissioners: Asher Do & Deven Gupta
Trojan Army Liaison: Gabriel Young
DHH Representatives: Joecelyn Soria & Joseph Saraceni
2021-2022 Senior Council
President: Sara Ghaem-Maghami
Vice Presidents: Karim Galal and Hunter Jue
Roy Kim
Nikki Tsai
Priyanshi Singh
Charlotte Ying
Julia Lee
Erin Jeon
Hunter Jue
Ryan Bienstock
Ayushi Shah
Karim Galal
Jenna Kim
Brietta Blonshine
Caitlyn Kim
Kiana Agahi
Jordan Brown
Ryley Debella 
Allison Bello
Aaliyah Akbar 
 Athena Deng
Carson Baxter
Gabriel Hertel
Gwen Sanders
Irene Ha
Katie Nam
Kian Agahi
Lilli Behpoor
Mimi Tran
Misha Lee
Saif Al-Hakeem
Saloni Sharma
Sanay Saboo
Scott Burke
Sofia Pezeshki
Yasmeen Benmohamed
2021-2022 Junior council
President: Ryan Alavi
Vice Presidents: Shannon Hegarty and Kassidy Leem 
Rosha Broomand
Elise Feuerborn
Lauren Choi
Maya Fahimi
Daniel Parvini
Brooke Shaw
Kate Stenta
Kayla Babaeian
Andrew Lim
Karina Nanda
Siara Gunawardhana
Varsha Torpunuri
Karina Pandurangadu
Shalika Suresh
Bryan Tran
Elizabeth Matthew
Vaneeza Malik
Olivia Rasla
Tracy Le
Sarang Min
Amanda Nguyen
Kayley Chan
Amy Shephard
Brian Bajak
 Daniel Delpassand
Florence Chen
Francesca Levine
Helina Shojaei
Kassidy Leem
Leah Parvini
Michael Dougherty
Shannon Hegarty
Tara Pirzadeh
Yoonah Choi
2021-2022 sophomore council
President: Anna Gubin
Vice Presidents: Riley Hertstein and Jesse Niedwick
Abby Weiland
Alex Liu
 Antonio Rodriguez Diaz
Chiara Rignot
Garrett Chin
Jana Salam
Jesse Niedwick
Julia Putnam
Julia Shabanie
Koa Saito
Mark Kim
 Max Dreben
 Reyna Lao
Riley Hertstein
Rowan Olson
Ryan Shrivastava
Sophia Ridder
 Varin Gupta
Ayden Agahi
Alec Apelian
Elizabeth Choi
Marie Choi
Cocoro Darby
Jasmine Jung
Andy Kessler
Eliana Lean
Mia Ledbetter
Karolyn Maeda
Najat Mazloum
Maanika Rangi 
Alexandra Suttner
Maria Uy
Brooke Yeh
2021-2022 Freshmen council
President: Sarah Hong
Vice President: Lillian Gan
Adriana Lee
Aidan Parker
Ally Kim
Ari Song
Arya Sajadi
Bruno Rodriguez Diaz
Caitlyn Morales
Caleb Kusumo
Chloe Schiffman
Christopher Burke
Corrine Wu
Deul Choi
Elizabeth Kim
Evan Zhong
Francisco Ochoa
Handersen Lee
Ivy Wang
Jamie Du
Jayden Peng
Joseph Bohman
Justin Ng
Kavin Greaser
Lilian Gan
Miles Hexun
Parthenopi Choriatis
Tak Nishida
Toby Forster
Troy Kiem
---
Wellness Recommendations: tinyurl.com/uhswellness
Staff Member of the Week Suggestions: https://tinyurl.com/smowsuggestions
SAC Segment Univision: https://tinyurl.com/sacsegment
ASB Feedback Form: https://tinyurl.com/asbsuggestions
University High School Webstore: uhasasb.com/webstore