---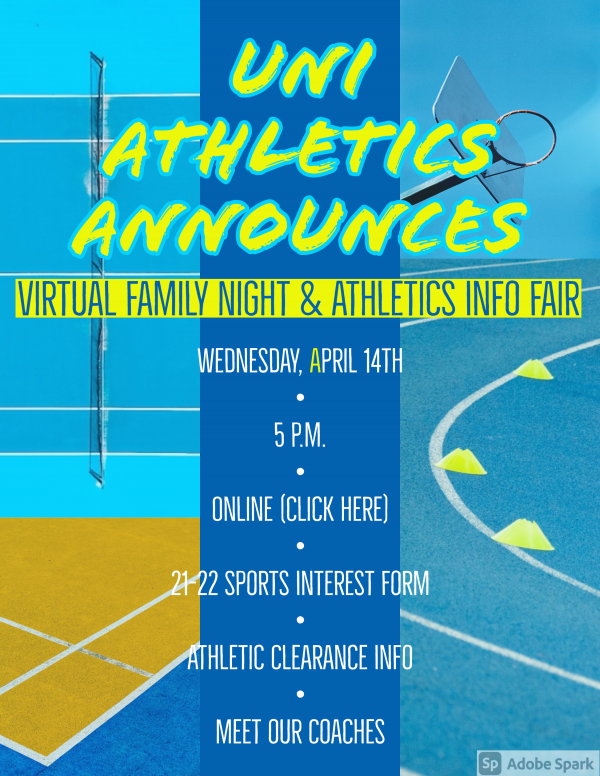 RETURN TO PLAY REQUIREMENTS
 Indoor low- and high-contact sports  can be played under the following conditions:

1. Weekly COVID-19 testing for boys and girls basketball, boys volleyball, and wrestling.  CLICK HERE for Uni Testing information.

2. Read Consent Letter. CLICK HERE to read IUSD COVID-19 Reopening Guidelines Letter

3.  Upload Informed Consent Form using the correct link below (if using a mobile device, slide right to view all sports):
SPECTATOR INFORMATION for AtHLETIC EVENTS
CLICK HERE to fill out the Indoor Spectator Form for home events.

 

Home and away athletes ONLY are allowed 2 spectators; student spectators are NOT permitted. You must include the full name of the spectators who will be in attendance for the sport, level, and game date selected. The list will be printed at 12 p.m. NOON before each day's contests. Late entries will not be accepted. This form is for Uni home contests only.

 

Spectators will be admitted entry to Uni's gym 10 minutes prior to the following start times to allow the previous game's spectators to exit:

4:00pm JV Boys
5:30pm Varsity Girls
7:00pm Varsity Boys

3:15pm JV Girls
4:30pm FS Boys

 

Click the image to enlarge and for a link to attendance policies by PCL school site.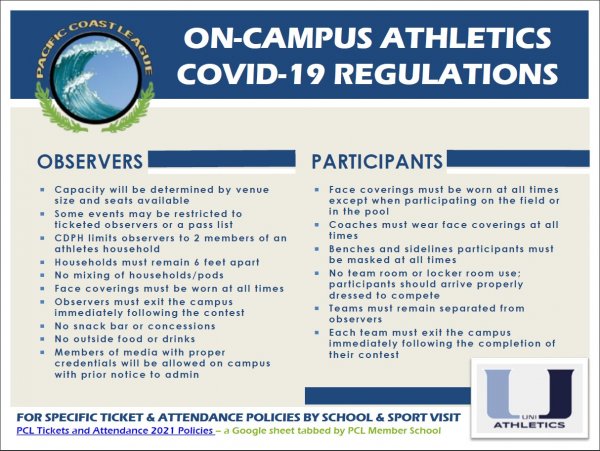 upcoming TRYOUTS - UPDATED 4/9/21
**All students MUST be cleared by the athletic office in order to tryout. No exceptions. See Clearance section below for instructions.**

 

No upcoming tryouts. Please check back soon!
COVID-19 Self-Assessment Survey Link
This survey must be completed DAILY BEFORE workouts. The link above takes you to a .pdf file you must download, print, fill out and turn in to your coach. Alternatively, coaches can provide you with a link to your sport's Google Form to complete the survey electronically. 

 
2020-2021 Athletic Clearance 
2021-2022 Sports interest
If you are an incoming Freshman for Fall 2021, we can't wait to meet you!
 

Uni will be hosting our Virtual Family Night for current 8th grade families on April 14, 2021. The evening's events will include a chance to learn more about each of our athletic programs and summer camps. Please check back as the date gets closer for details.

 

In the meantime, we encourage you to:
Review the Athletic Clearance process (expand the section above this)
Schedule a sports physical (We strongly recommend an exam date AFTER MAY 1, 2021.)
Read the Frequently Asked Questions (FAQ's) by clicking here or following the link in the sidebar or at the bottom of the page.
Get to know the "normal" sports seasons. We hope to return to a traditional CIF Sports Calendar for 2021-2022:
Fall Sports: Cross Country, Girls Golf, Football, Girls Tennis, Girls Volleyball, Boys Water Polo
Winter Sports: Basketball, Soccer, Girls Water Polo, Wrestling
Spring Sports: Baseball, Boys Golf, Lacrosse, Softball, Swimming, Boys Tennis, Track & Field, Boys Volleyball
Cheer: All three seasons; in-person tryouts are usually held at the end of April for upcoming school year
SPORTS PHYSICALS
An IUSD physical form and record of a sports physical examination dated after May 1st, 2020 must be uploaded to your student's athleticclearance.com account before he/she can be cleared to participate in athletic camp, practices, or contests.

 

Most insurances cover one physical per year; however, multiple locations in the Irvine area provide walk-in sports physicals. This service typically costs between $25-50. Call ahead to schedule an appointment and bring the IUSD physical form for the doctor to complete.

Here is a list of nearby locations:

 
Trojan Thursday
Visit and follow Trojan Thursday for weekly updates!

 

As an email subscriber you'll receive an email on (most) Thursdays with the latest athletic announcements, including: Summer Camp Registration Date, Clearance Updates, Tryout Dates; as well as Weekly Schedules & Home Games, Scores & Records, Highlights Submitted by Coaches & Fans, Athletes of the Month & Games of the Week (GOWs), News articles featuring Uni teams and athletes from The OC Register, OC Sports Zone, Uni's Sword & Shield,  Playoff News, and more...
coach contact information
PE FOR Private Instruction
A student is eligible for a maximum of 20 units (two years) of Physical Education per school level via Private Instruction, on a pass/fail basis, under the following conditions:
 If a middle or high school student is nationally ranked in an individual sport. This eligibility does not include members of a nationally ranked team.
 If a high school student is a member of a team, in a sport not offered at the school, whose typical schedule is comprised of multiple (minimum three per season) interstate competitions during the school year, and a practice schedule similar to the schedule of a high school sport in season.
Physical Education Credit via Private Instruction requires pre-approval by the principal or designee. If approved, the student shall be eligible for one fewer class than is the norm for the grade level.

It is the responsibility of the student to provide appropriate documentation including confirmation of ranking, if applicable, schedule of competitions, and required hours of supervised practice under a qualified instructor. All other requirements of IUSD Board Policy 6157 and Administrative Regulations regarding Credit for Private Instruction shall apply.

 

To review the eligibility guidelines by sport and to access the independent study form, please visit the following IUSD website:

 

https://iusd.org/about/departments/education-services/academics/athleticspe/physical-education (scroll down for the form link at the bottom)
OUR MISSION
Our Mission is to enrich the mental, physical and emotional well being of all students by providing competitive opportunities in which lifelong values of sportsmanship, individual effort, teamwork, integrity and commitment are emphasized.
NOTICE OF NON-DISCRIMINATION IN ATHLETICS:
IUSD does not discriminate in enrollment in or access to any athletics program available. Admission to these programs is based on age appropriateness, team roster space, aptitude and meeting academic and behavioral eligibility requirements. The lack of English skills shall not be a barrier to admission to or participation in the District's activities and programs.
IUSD's facilities and equipment provided for students are comparable and equitable to both sexes without disparity or imbalance, consistent with his or her gender identity, irrespective of the gender listed on the pupil's record. For additional information see www.iusd.org (Board Policy 5145.5)
POSITIVE SPORTS PARENTING
Participation in the athletic program is available to all qualified persons without regard to sex, sexual orientation, gender, ethnic group identification, race ancestry, national origin, religion, color, or mental or physical disability pursuant to the California Code of Regulations, Title 5, Chapter 5.3, section 4900 et seq.
A parent's "coaching job" is the toughest one of all and takes a lot of effort.  Sometimes in your desire to help your child, best intentions can end up being counterproductive.  Applying the rules for parents will go a long way towards fostering an environment your child can use to enjoy and excel in their sport.
UNI FIGHT SONG
Mighty Trojans
Mighty Trojans
Fight on U.H.S.
Trojan Strength and UNI Pride
Will conquer all the rest.
Mighty Trojans
Mighty Trojans
Our Spirit will Shine Through,
Fight UNI, Fight forever,
Trojans hail to you.
UHS & IUSD POLICY ON FINANCIAL REQUESTS FOR ATHLETICS
California's Constitution affirms that students and parents cannot be required to pay money to gain access to educational activities, including extracurricular and co-curricular offerings such as athletics, nor can they be charged for materials and supplies necessary to participate in educational activities. "Educational activities" has been clearly defined to include extracurricular offerings such as music, sports and some clubs. Moreover, the rules described above are believed to apply to all affiliated groups supporting district and school programs, including PTAs, boosters and foundations.  This principal was legislated and codified in 2012. The district has since worked to clarify that parent donations for most educational activities are voluntary, and that students will not be denied participation if their families choose, for any reason, not to contribute.