A downloadable PDF is available here
Wed April 26

Surveys open:

Senior Survey (https://student.naviance.com/univhigh) 

ESLR Survey  (https://forms.gle/dpLhudeFhdAiYc8n6)  - If you are having problems, please copy and paste the URL into your browser bar.  

Links posted on UHS Counseling and Senior links at www.universityhigh.org. Senior Survey is found on Naviance. ESLR Survey is a Google Form. Must be completed to get Cap & Gown and participate in graduation ceremony.  Both surveys are due by May 19.

Mon May 1

Prom Tickets on sale

Graduation tickets released if graduates want more than 10 tickets

Final transcripts available for order at www.parchment.com or through our registrar. Specify "Next Grading Period" when ordering. Transcript will be sent automatically as soon as it is released.

Fri May 19

Senior Survey and ESLR Survey due

Senior Clearance cards distributed through Homeroom

Sat May 20

Prom 8pm - 11pm at Mission San Juan Capistrano

Tue May 23

Senior Awards 6:30pm in the gym

Thu & Fri May 25 & 26

Senior Final Exams

Fri May 26 

Senior Countdown in the Crossroads at 2:15pm

Tue May 30 

8:30am – 11:30am Seniors return books, Chromebooks, & athletic gear

Wed May 31 

9:30am Mandatory Graduation Rehearsal on the outdoor basketball courts

11am Senior Feast and yearbook signing - feast is FREE!

11:45am Senior cap & gown distribution in the small gym

All fines and books/athletic returns required prior to receiving your cap and gown.

Bring your completed senior clearance card to enter for your cap and gown.

Thu Jun 1

3:30pm Seniors must meet in assigned rooms at UHS for graduation (this time has changed)

5:30pm Graduation at the Bren Events Center at UCI. Doors open for guests at 4:45pm

Fri Jun 2

5pm Grad Night Celebration (waiting list only)

5pm dinner in the UHS Gym (waiting list only)

7pm load busses for Disneyland. Contact PTSA with questions. Forms available online here.

Thu Jun 22

Transcript orders must be completed and submitted in order to make college deadlines.
Please see the table below to see where your student is sitting. If you are on a computer you can use ctrl (⌘ on a mac) and hit f to bring up the page search box and if you are on the phone there are "Find on Page" and similar options in different places depending on your phone and browser choices. Once you find the search you can type in the long ID number to see which section of the Bren would be the best place for you to sit.
Image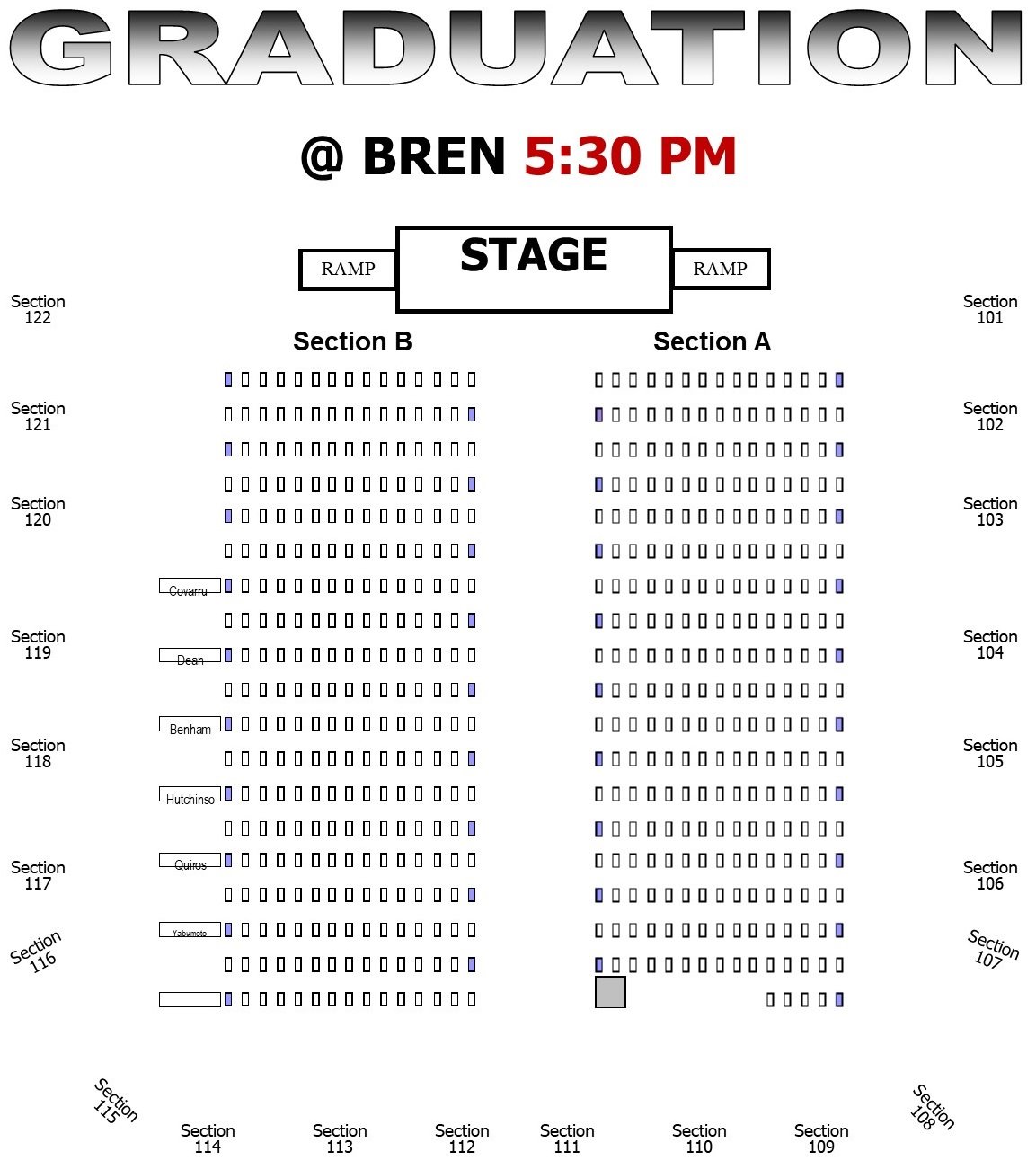 Student ID

Section

Row

Seat

Staging Room

516170000

A

1

1

201

516170001

A

1

2

201

516160008

A

1

3

201

608180066

A

1

4

201

516170004

A

1

5

201

608190099

A

1

6

201

516170006

A

1

7

201

516170007

A

1

8

201

191112916

A

1

9

201

608190028

A

1

10

201

150150027

A

1

11

201

191101063

A

1

12

201

508170005

A

1

13

201

191110421

A

1

14

201

191112447

A

2

1

204

191100473

A

2

2

201

42070108

A

2

3

201

156120089

A

2

4

201

508170013

A

2

5

201

608190009

A

2

6

201

156150151

A

2

7

201

608200043

A

2

8

201

191105570

A

2

9

201

102130029

A

2

10

201

160120206

A

2

11

201

191115751

A

2

12

201

608190032

A

2

13

201

191113753

A

2

14

201

191102146

A

3

1

202

191101872

A

3

2

202

508180002

A

3

3

202

191101757

A

3

4

202

102120193

A

3

5

202

608210030

A

3

6

202

608220151

A

3

7

202

191101923

A

3

8

202

608210094

A

3

9

202

608220165

A

3

10

202

608200073

A

3

11

202

608220080

A

3

12

202

191101841

A

3

13

202

156110080

A

3

14

202

191104050

A

4

1

202

608190020

A

4

2

202

156110107

A

4

3

202

508170050

A

4

4

202

166160035

A

4

5

202

160150103

A

4

6

202

508180004

A

4

7

202

116160054

A

4

8

202

191110538

A

4

9

202

608200027

A

4

10

202

608210038

A

4

11

202

608200048

A

4

12

202

608220120

A

4

13

202

191104397

A

4

14

202

191102768

A

5

1

203

108110037

A

5

2

203

191100744

A

5

3

203

144160077

A

5

4

203

145160178

A

5

5

203

191100929

A

5

6

203

420800052

A

5

7

203

191101772

A

5

8

203

142120131

A

5

9

203

102130011

A

5

10

203

608180134

A

5

11

203

108160009

A

5

12

203

191101147

A

5

13

203

116160194

A

5

14

203

608190031

A

6

1

203

608190112

A

6

2

203

191100944

A

6

3

203

42070151

A

6

4

203

191101724

A

6

5

203

42070142

A

6

6

203

191100582

A

6

7

203

191100819

A

6

8

203

191101045

A

6

9

203

174110002

A

6

10

203

191101716

A

6

11

203

608190098

A

6

12

203

174110143

A

6

13

203

191092331

A

6

14

203

191102126

A

7

1

204

508180010

A

7

2

204

608200119

A

7

3

204

156140005

A

7

4

204

170150244

A

7

5

204

142130135

A

7

6

204

191103204

A

7

7

204

191102054

A

7

8

204

191101869

A

7

9

204

608210021

A

7

10

204

191101335

A

7

11

204

42070150

A

7

12

204

191101769

A

7

13

204

608210029

A

7

14

204

608210022

A

8

1

204

191102907

A

8

2

204

608220037

A

8

3

204

174130027

A

8

4

204

608200092

A

8

5

204

191102178

A

8

6

204

608180141

A

8

7

204

608190043

A

8

8

204

116150184

A

8

9

204

508180038

A

8

10

204

174120163

A

8

11

204

166140192

A

8

12

204

156110151

A

8

13

204

191101708

A

8

14

204

154120130

A

9

1

205

191101687

A

9

2

205

191101416

A

9

3

205

191100725

A

9

4

205

42060326

A

9

5

205

160160065

A

9

6

205

191101219

A

9

7

205

516170048

A

9

8

205

191100578

A

9

9

205

191103956

A

9

10

205

191100771

A

9

11

205

191114508

A

9

12

205

156130167

A

9

13

205

191101849

A

9

14

205

191112700

A

10

1

205

608200032

A

10

2

205

608180144

A

10

3

205

191101502

A

10

4

205

191102486

A

10

5

205

156120268

A

10

6

205

191101202

A

10

7

205

191100541

A

10

8

205

608190042

A

10

9

205

191105130

A

10

10

205

612200032

A

10

11

205

608210009

A

10

12

205

608200010

A

10

13

205

612190094

A

10

14

205

160130082

A

11

1

206

156120297

A

11

2

206

508180001

A

11

3

206

156110097

A

11

4

206

508180062

A

11

5

206

160140190

A

11

6

206

42070133

A

11

7

206

102150023

A

11

8

206

608220002

A

11

9

206

608210044

A

11

10

206

191100851

A

11

11

206

520160069

A

11

12

206

191101064

A

11

13

206

508170002

A

11

14

206

608180128

A

12

1

206

191102718

A

12

2

206

191105879

A

12

3

206

42070181

A

12

4

206

156150041

A

12

5

206

191100731

A

12

6

206

191101281

A

12

7

206

508170008

A

12

8

206

174130148

A

12

9

206

612200058

A

12

10

206

608220065

A

12

11

206

42070275

A

12

12

206

191101682

A

12

13

206

608190075

A

12

14

206

191103168

A

13

1

209

191100968

A

13

2

209

191102571

A

13

3

209

191101038

A

13

4

209

508180051

A

13

5

209

191102497

A

13

6

209

191102234

A

13

7

209

42070188

A

13

8

209

608220073

A

13

9

209

156120035

A

13

10

209

191101308

A

13

11

209

116150102

A

13

12

209

166140025

A

13

13

209

191113367

A

13

14

209

508180016

A

14

1

209

191102417

A

14

2

209

191103802

A

14

3

209

608210035

A

14

4

209

508170000

A

14

5

209

191114319

A

14

6

209

608200103

A

14

7

209

508160087

A

14

8

209

508160088

A

14

9

209

191102276

A

14

10

209

191103955

A

14

11

209

520170050

A

14

12

209

156150122

A

14

13

209

191101166

A

14

14

209

191102604

A

15

1

210

42070262

A

15

2

210

191114007

A

15

3

210

191102620

A

15

4

210

608210133

A

15

5

210

508170054

A

15

6

210

160130088

A

15

7

210

191113738

A

15

8

210

156120033

A

15

9

210

608200071

A

15

10

210

191102499

A

15

11

210

191102083

A

15

12

210

608190029

A

15

13

210

166160038

A

15

14

210

191112650

A

16

1

210

420800265

A

16

2

210

42070129

A

16

3

210

191111458

A

16

4

210

108110077

A

16

5

210

191102245

A

16

6

210

508180036

A

16

7

210

608220107

A

16

8

210

116140083

A

16

9

210

174120198

A

16

10

210

191101444

A

16

11

210

608190047

A

16

12

210

608220104

A

16

13

210

191102353

A

16

14

210

191115217

A

17

1

212

191101070

A

17

2

212

191113675

A

17

3

212

191102793

A

17

4

212

191102091

A

17

5

212

608220092

A

17

6

212

191102585

A

17

7

212

191101749

A

17

8

212

191111071

A

17

9

212

191111079

A

17

10

212

174160155

A

17

11

212

191103318

A

17

12

212

191105366

A

17

13

212

608200042

A

17

14

212

608190023

A

18

1

212

508170012

A

18

2

212

191105373

A

18

3

212

191101044

A

18

4

212

191103542

A

18

5

212

160140067

A

18

6

212

508170063

A

18

7

212

191101539

A

18

8

212

191101831

A

18

9

212

156140144

A

18

10

212

608200030

A

18

11

212

191120033

A

18

12

212

608220034

A

18

13

212

191102519

A

18

14

212

608220005

A

19

1

213

191102708

A

19

2

213

108120041

A

19

3

213

174180012

A

19

4

213

608210067

A

19

5

213

191113808

B

1

1

201

191101700

B

1

2

201

191101996

B

1

3

201

191101328

B

1

4

201

174150120

B

1

5

201

191101371

B

1

6

201

191104567

B

1

7

201

191101163

B

1

8

201

191102193

B

1

9

201

508180049

B

1

10

201

191112343

B

1

11

201

191100721

B

1

12

201

191101498

B

1

13

201

516170005

B

1

14

201

191102418

B

2

1

201

191103567

B

2

2

201

191102508

B

2

3

201

191102270

B

2

4

201

191101230

B

2

5

201

191100856

B

2

6

201

191102244

B

2

7

201

608210103

B

2

8

201

156130092

B

2

9

201

191102439

B

2

10

201

118150002

B

2

11

201

191112463

B

2

12

201

191100649

B

2

13

201

520170074

B

2

14

201

102140026

B

3

1

202

160190000

B

3

2

202

608200106

B

3

3

202

191095535

B

3

4

202

504180023

B

3

5

202

160130049

B

3

6

202

608210055

B

3

7

202

608190015

B

3

8

202

191100821

B

3

9

202

191100663

B

3

10

202

191104059

B

3

11

202

191100639

B

3

12

202

191102008

B

3

13

202

508170026

B

3

14

202

166160061

B

4

1

202

191101536

B

4

2

202

608210053

B

4

3

202

166130013

B

4

4

202

191111528

B

4

5

202

608190051

B

4

6

202

191101974

B

4

7

202

608200116

B

4

8

202

191101767

B

4

9

202

191113838

B

4

10

202

160140099

B

4

11

202

191113777

B

4

12

202

174130147

B

4

13

202

42070021

B

4

14

202

191102974

B

5

1

203

174110122

B

5

2

203

191102648

B

5

3

203

191101574

B

5

4

203

608190106

B

5

5

203

608200063

B

5

6

203

191100543

B

5

7

203

102130093

B

5

8

203

102140056

B

5

9

203

116110114

B

5

10

203

156140029

B

5

11

203

166150189

B

5

12

203

191101204

B

5

13

203

156120315

B

5

14

203

191090764

B

6

1

203

191102390

B

6

2

203

191113740

B

6

3

203

608200105

B

6

4

203

608210075

B

6

5

203

145140217

B

6

6

203

191112092

B

6

7

203

191111429

B

6

8

203

191102642

B

6

9

203

608220033

B

6

10

203

191100742

B

6

11

203

191101466

B

6

12

203

156140017

B

6

13

203

120120162

B

6

14

203

120120163

B

7

1

204

145120067

B