University High School Athletics is proud to announce their annual Summer Athletic Programs.  The University Athletic Department continues to credit much of its athletic success to its strong summer programs.  Many of the Trojan athletic teams have captured league and CIF championships.  This athletic opportunity comes from a strong commitment by both our athletes and our coaching staff.  The camps are designed to teach skills in each sport as well as proper conditioning and strength techniques.
SUMMER CAMP REGISTRATION FORM AND FLYER
ATHLETIC CLEARANCE INSTRUCTIONS
8th Grade Clearance Night
In addition to our regular hours, the Athletics Office will be open on Thursday, May 30th from 3:15 - 5:00 p.m. to process athletic clearance and accept summer camp payments for incoming 9th graders.  Anyone can drop off the clearance paperwork and pay for camp, student does not have to attend. 
Baseball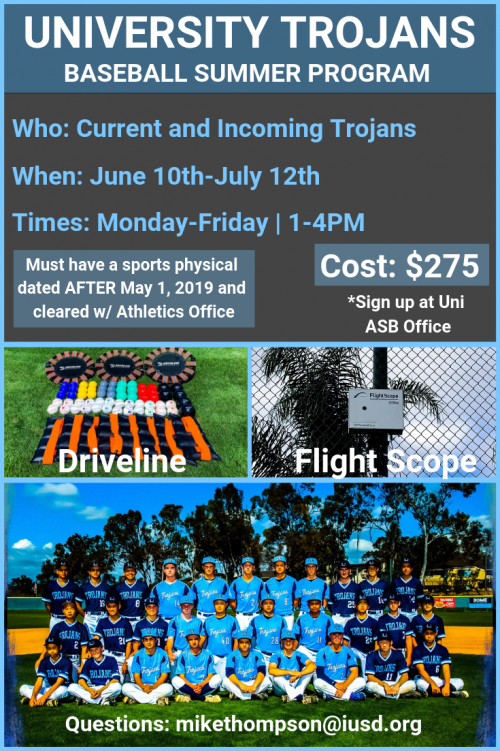 Boys Basketball
Coach: Beau Budde
Cost: $275
Dates:  June 10 – July 13 (M-F)
Time:   Varsity: 7:30a – 10:00a
Lower Levels: 10a-12p OR 12p-2p
Girls Basketball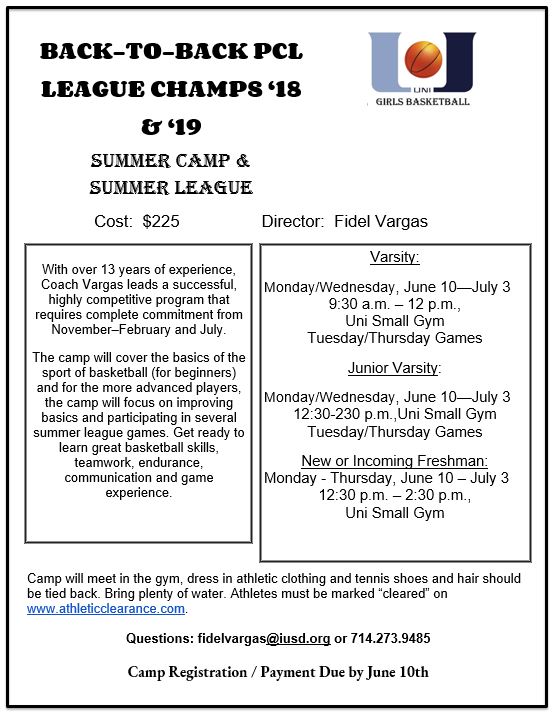 Competitive Cheer
Cross Country
Coaches: Eric Davies:  ericdavies@iusd.org
Courtney Mosey: courtneymosey@iusd.org
Cost: $130 Dates: June 24 – July 29 (M–F)
Time: 6:30a – 8:30a
Location: Meet at UHS Racquetball courts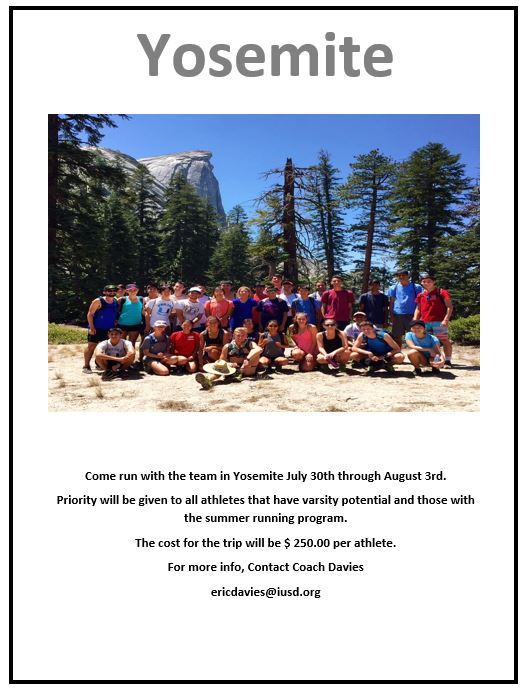 Football 
Coach: Chris Hernandez
Cost: $275
Dates: June 12 - July 13 (M-Th)
Time: 5:00p - 8:00p
Location: UHS Stadium Field 
Girls Lacrosse
Coach: Martin Stibolt
Cost: $150
Dates: Aug. 5 – Aug. 15 (M-Th)
Time: 3:00p – 5:00p 
Location: UHS Stadium Field
Boys Soccer
Coaches: Martin Carrington:
Ivan Bastida: 
Cost: $150 Dates: July 22 – Aug. 1 (M-Th)
Time:  8:00a – 10:00a
Location: UHS Stadium Field
Team Page: https://www.unihighsoccer.org/
Tennis
Coach: John Kessler
Cost: $275
Dates: June 17 – July 18 (M-Th)
No camp July 4th
Times: 1:00p – 3:00p OR 3:00p – 5:00p
Location: UHS Tennis Courts
Team Page: https://universitytennis.webs.com/ 
Boys Volleyball
Coach: Marty Ross
Cost: $185
Dates: June 10 – June 28 (M-Th)
Time:   Varsity:  6:00a – 9:00a 
   Lower Levels:  8:00a – 10:00a
Location: UHS Gym
Girls Volleyball 
Coach: Garry Currier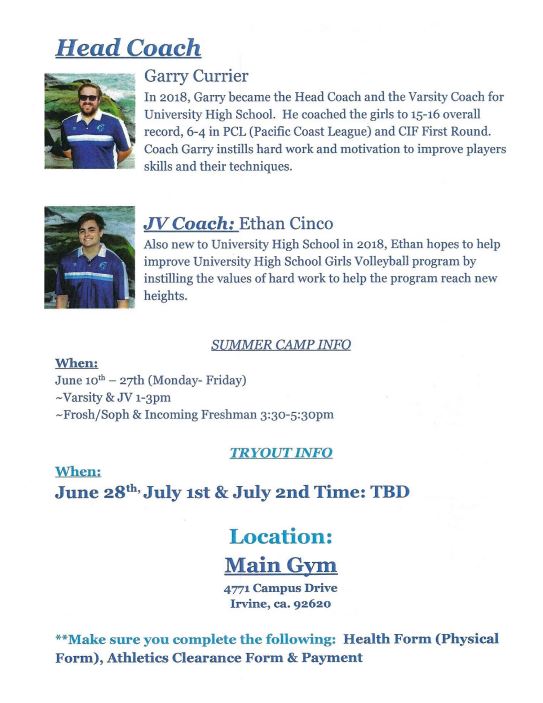 Team Page: https://www.unigvb.com/
Wrestling
Coach: John Farah
Cost: $225
Dates: June 10 - July 3 (M-F)
Time:  5:00p - 7:00p
Location: UHS Small Gym
Boys Water Polo
Coach: Jesse Briggs
Cost: $225
Dates:  June 10 – July 3 (M/W/F)
Time: 6:00a – 9:00a
Location: UHS Pool
Girls Water Polo
Coach: Jesse Briggs
Cost: $225
Dates: June 10 – July 3 (T/Th/F)
Time: T /Th – 6:00a – 9:00a
                   F – 8:00a – 11:00a 
Location: UHS Pool