Here is a complete diagram of the courses offered here at Uni. If you would like to be in marching band, you are required to be in one of the concert bands. Exceptions will be made for students who wish to enroll in Marching band and are enrolled in an orchestra class.
If you are in Winter Guard, you do not have to be in a band. It's just listed so you can see where in the schedule it would be placed.
Course materials will be distributed as the school year progresses, and materials for their respective classes will be posted on Google Classroom.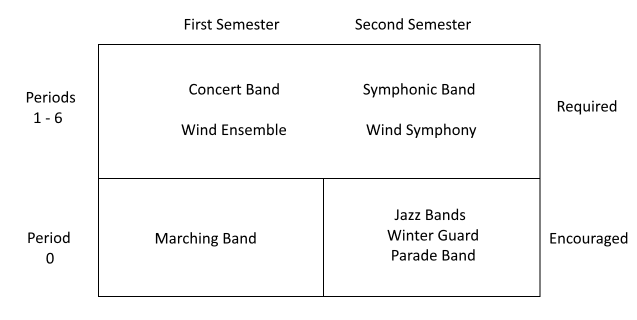 Marching Band
The MTR has two branches of student leaders that are elected to represent and lead these ensembles.  The MTR Student Leadership is made up of section leaders and drum majors.  These students were selected by the students and directors through a popular vote at the end of the previous school year.  Consideration was also given to a student's musical skills and leadership abilities. Section leaders are held responsible for their section, and are in charge of running sectionals and guiding each member of their section. Drum majors are the field conductors of the band and are in charge of leading the entire group, from making sure rehearsals go smoothly to directing students at competitions and football games.
The Google Classroom code for marching band is vim7mcm.
WESTWARD
The theme for UHSMTR's 2017-2018 season will be Westward.
Band camp will be between August 7th - 11th and 14th - 18th , from . Missing band camp may make it more difficult for you to join the marching band, depending on the circumstances.  Please email Mr. Heddon if you're going to miss any portion of band camp to see if you're still eligible. The Band Camp forms can be found in the downloads section of this website (here)
Marching Band Schedule
Monday
Tuesday
Wednesday
Thursday
Friday
7:00  - 7:54 am
7:00 - 7:54 am
2:30 - 5:30 pm
7:00 - 8:30 am
7:00 - 7:54 am
Please check the calendar for tournament and football dates for the upcoming UHSMTR season.
The Student Leaders for UHSMTR 2016 season:
DRUM MAJORS
Head Drum Major:    Stella Shuai
Assistant Drum Major:    Elias Fang
SECTION LEADERS
Flutes:    Alice Lee
Clarinets:    Tony Feng, Kayli Choy
Saxophones:    Alton Yolar
Trumpets:    Sonia Kelly
Mellophones:    Rachel Choi
Baritones:    Benny Monuki
Tuba:    Vikram Srinivasan
Drumline:    Mitchell Rogers
Pit:    Eirene Ding
Colorguard:    Katherine Ngo, Alina Guo, Rylee Pollisco
Jazz Bands
Jazz is an extremely unique art that is unfortunately not taught at all high schools. Here at Uni we offer three levels of jazz bands - Jazz 1, Jazz 2, and Freshmen Jazz. Typically, jazz members are from the marching band that did not join either parade band or winter guard. There is an annual jazz concert where all three bands show off what they've learned throughout the semester.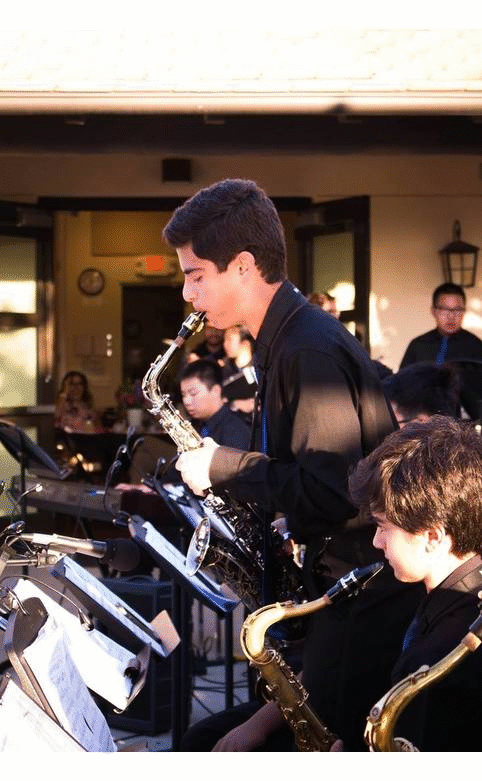 Color Guard
Be a part of the award-winning UHS COLOR GUARD!
All students are welcome. No experience necessary. We look forward to seeing you there! Please plan on attending all workshop and audition dates. Please wear comfortable athletic clothes and appropriate athletic shoes.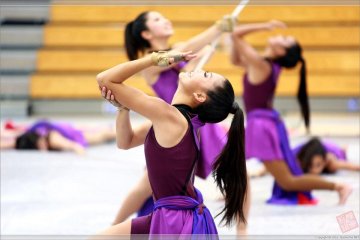 The UHS Color Guard is a competitive group within the Performing Arts Department, consisting of both new and experienced members who perform dance, flag, rifle, and saber choreography. The Color Guard holds school period and afternoon rehearsals and performs year-round, with marching band in the first semester and winter guard in the second semester.
 
Questions? Email unicolorguard@gmail.com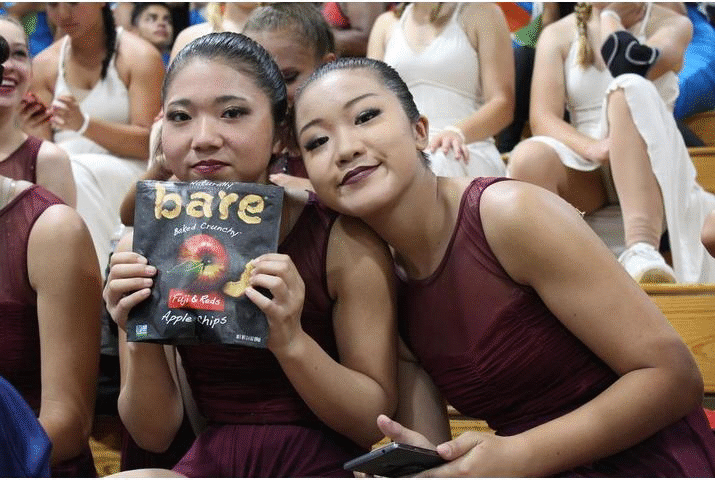 2016 - Romeo and Juliet
2015 - MashUp
2014 - Sound Machines
2013 - This Is Halloween
2012 - It Takes Two to Tango
2011 - The Jungle
2010 - Coming Together
2009 - The Best Mode of Transportation Is
2008 - Pipes and Puddles
Band Executive Council
The MTR has two branches of student leaders that are elected to represent and lead these ensembles.  The Band Executive Council (BEC) has delegated different responsibilities to its members to promote the community and social connection of the band members.  The BEC organizes social events and fundraisers for those events, along with many other activities.
The Band Executive Council for the 2017-18 school year:
President:    Mitchell Rogers
Vice President:    Sonia Kelly
Social Chair:    Elaine Zhang
Treasurer:    Evan Juan
Secretary:    Michelle Te
Fundraising Chair:    Hina Tamaki
Color Guard Representative:    Kaitlyn Ngo
Percussion Representative:    Eirene Ding
Video Production:    Damian Dinh
Historians:    Tanner Morin, Katherine McPhie, Kim Marie Mauricio, Emily McPhie